Sweet Peas, 8.5 oz. Easy-Open Can
Sweet Peas, 8.5 oz. Easy-Open Can
EXCEPTIONALLY DELICIOUS TASTE: Seasonally fresh-harvested at the peak of ripeness and then prepared within hours and just miles from where they were grown to seal in Farm Fresh Goodness for delicious flavor and tenderness.
NATURAL GOODNESS: Libby's Sweet Peas are appealingly tender, succulent and flavorful with a creamy, sweet, smooth and faintly nutty taste that you know and love.
CLEAN LABEL: Just peas, water, sugar and salt! No preservatives. Certified Kosher. A real crowd pleaser that is great as a standalone side-dish, snack or "secret-ingredient" in your favorite recipes. Visit our Recipe Page for delicious recipe ideas.

GROWN & MADE IN THE USA: Libby's Sweet Peas are grown & made in the USA. – Cultivated in the U.S. heartland by multi-generational, U.S. farmers on family-owned farms located primarily in the fertile regions of Minnesota, Wisconsin, Illinois or Iowa.
ENVIRONMENTALLY FRIENDLY: Libby's Sweet Peas are packaged in recyclable steel cans made with Non-BPA lining (can lining not intentionally made with BPA). Convenient Easy-Open / Pop-Top / EZO end. Please recycle.
Part of a Healthy Lifestyle

USA Grown

No Preservatives

Recyclable Packaging

Non-BPA Cans
Other Sizes Available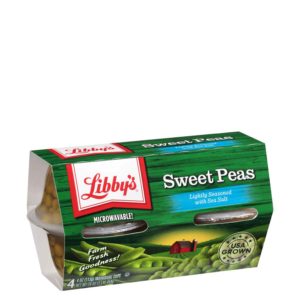 Sweet Peas, 4 oz. Cups, 4-Pack
Sweet Peas, 15 oz.
Sweet Peas, 29 oz. Jumbo-Can
Nutrition Facts

Serving Size 1

Calories

Per 1/2 Cup




60

1 Can: Per Container




120

Total Fat
Sodium
Total Carbohydrate
Dietary Fiber
Sugars

5g

9g

Incl. Added Sugars
Protein

4g

7g

Vitamin D
Calcium
Iron
Potassium
The % Daily Value (DV) tells you how much a nutrient in a serving of food contributes to a daily diet. 2,000 calories a day is used for general nutrition advice.